COMPETE WITH A PROFESSIONAL Dance PARTNER
Professional-Amateur Competitions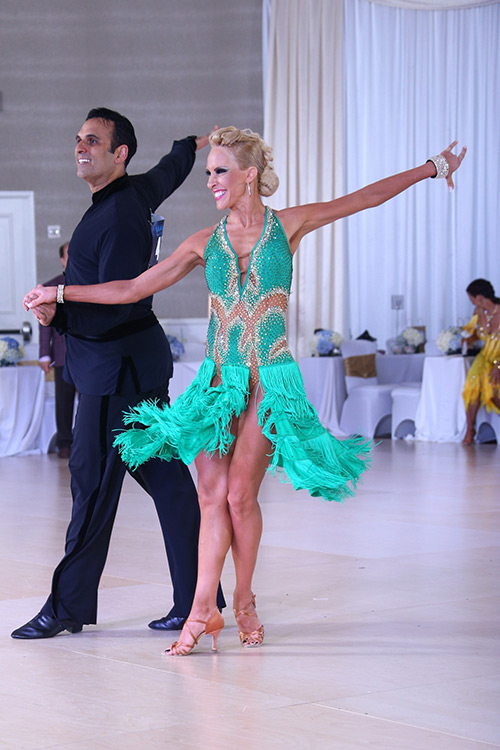 Have you watched the wildly successful television show "Dancing with the Stars" and thought, "Hey, I can do that?" If you are a serious ballroom dance student, and you thrive on competition, you will definitely want to compete in one or more of the over 50 competitions nationwide for Professional-Amateur couples, referred to as Pro-Am Couples and Pro-Am Competitions—the most popular way to get involved in ballroom dance competitions and the quickest way to.
As an amateur taking private lessons and dancing in competitions with a professional partner, you learn to dance and compete with a seasoned professional whose experience and expertise contributes directly to your success. Beyond being your partner, your professional instructor acts as your coach and mentor, your cheerleader, advocate, and support in lessons and competitions. Together, you participate in Pro-Am competitions where you are judged against other Pro-Am couples, just as on "Dancing with the Stars."
Staged at large hotels near urban areas, competitions typically take place over three to four consecutive days, with each day featuring a different style of dance—American Rhythm, American Smooth, International Latin, and International Standard. The judging panel consists of retired ballroom dance professionals who are certified as judges in all styles of ballroom dancing.
Pro-Am competitions are categorized by gender, age, and level of experience to make the competition floor fair and equal for everyone. For example, a fifty-year-old female student who has been taking lessons for three months competes in the Newcomer division against other women in the same age range. Competitions start with the Newcomer division and a beginner's level Bronze division, followed by the higher level Silver and Gold divisions. The final Pro-Am competitive events are the open scholarship dances that combine both female and male dancers to vie for monetary awards.
My Dance Hub Pro-Am Competitions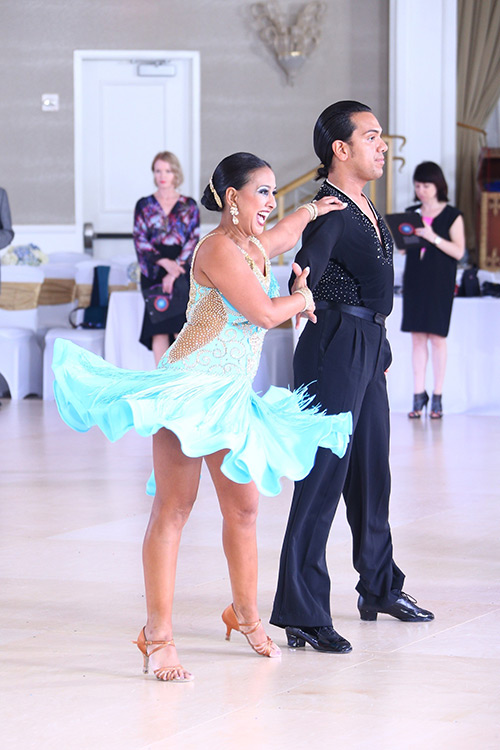 Many My Dance Hub students compete successfully at the Pro-Am level, and the studio attends most of the local competitions:
Indiana Challenge in February;
Windy City Open in March;
Crystal Ball in June;
Harvest Moon Ball in October.
In addition to our students' awards, we have won numerous top studio and top teacher awards at these competitions, most recently, Top Studio at Crystal Ball 2016, Top Studio at Harvest Moon 2016, Third Place Top Studio at Indiana Challenge 2017.
Destination competitions that we have attended include the following:
Millennium Dance Sport
Wisconsin State Dance Sport
Cleveland Challenge
Sarasota Challenge
Nashville Starz
Miami Vibe
Ohio Star Ball
Twin Cities Open
Indianapolis Open
Southeastern States Dance Sport
Starlite Ball
Preparation for Pro-Am Competitions
Participation in Pro-Am competitions requires careful planning.  You and your professional partner decide to compete several months in advance of competition; you choose your dances, skill levels, and age groups; you target your private lessons toward your competition goals.
The high level of competition at all categories of experience and in all age groups at Pro-Am events demands that you look the part of the ballroom dancer. The quality of your costume for both male and female dancers and the professionalism of your make-up, hairstyle, and jewellery for women enhances your presence on the dance floor and plays an important role in the impression that you give the judges. Ballroom dancing is an art, and every detail counts!
With our reputation as a top studio for competitive Pro-Am dancers, we pride ourselves on our proven ability to be your consultant for competition planning and your resource for competition products. We supply our own professional ballroom gowns for rent; we stock many competition products in our own dance store (jewellery, dance shoes, hosiery); we provide make-up and hairstyling services at competitions.
Competitive ballroom dancing is a sport that requires strength and endurance, styling and sharpness, balance and athleticism. We encourage students preparing for competitions to pursue a wide variety of other fitness activities, such as yoga, weight training, and cardio workouts.
Pro-Am Competition Tips
When you have mastered the technical skills of your dances and created the "look" prized by competitive ballroom dancers, you now must market this package on the competition dance floor. Never underestimate the power of the performance aspect of ballroom dancing in the competitive arena! Enter and exit the dance floor with energy and flair. Acknowledge the audience and the judges with eye contact and smiles, bows and curtsies. Connect with your partner and flow with the music. Dynamically interpret the distinctive characteristics of each dance style.
Competition days usually begin early with hair and make-up appointments, breakfast and a quick warm up. Heat lists are printed in advance, letting you know literally minute by minute what dance you are dancing when. After a certain number of heats, the judges award placements for each heat you and your partner have danced.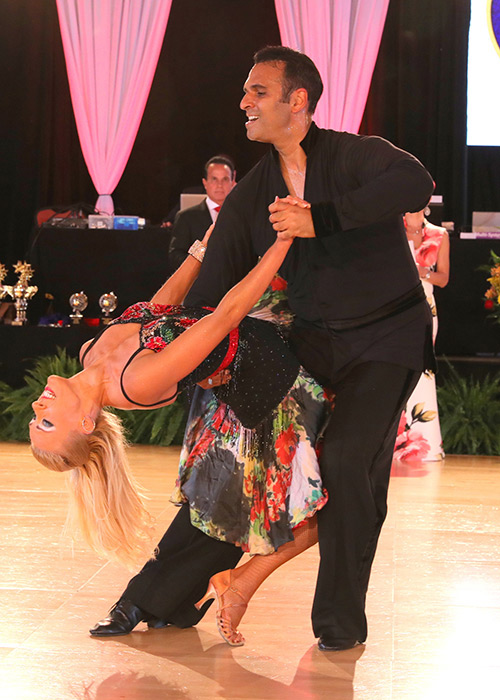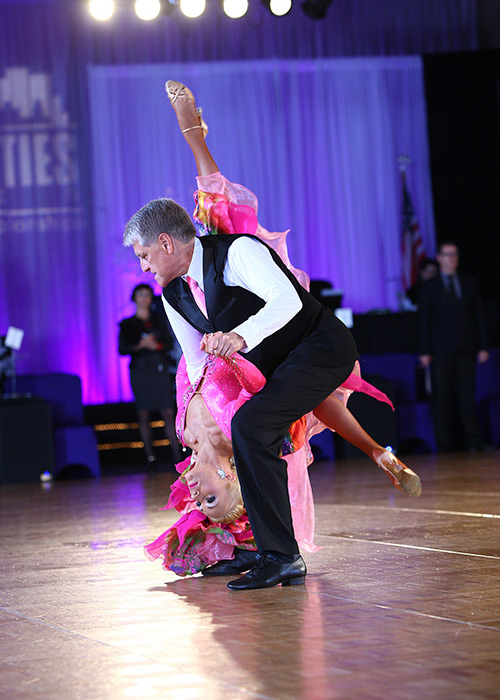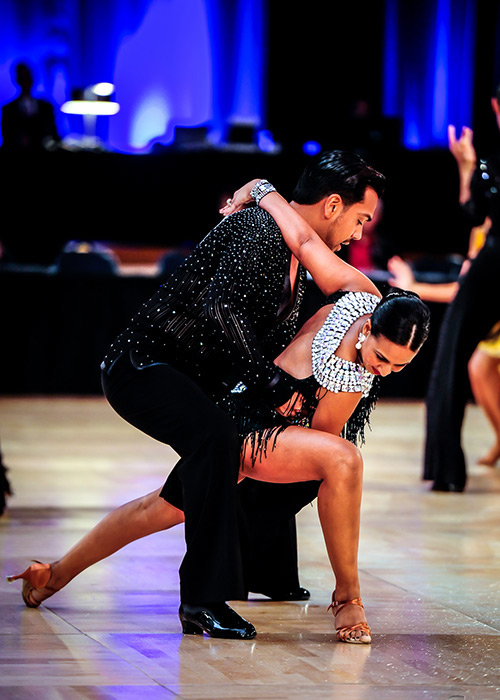 Professional photographers snap digital photos of all competing couples, and you can use the on-site computers to view and order photographs of your performance. Every competition also provides professional videography, and you can track your progress by pre-ordering videos of your performances to review later with your instructor
Pro-Am Social Events
If the challenges of competitive ballroom dancing are just not your thing, you can still participate as a spectator at Pro-Am competitions. While the daytime events showcase amateur dancers with their professional partners, the evening competitions star nationally and internationally known professional partners who dazzle the audience with their performances. Marvelling over the superb dancing, critiquing the brilliant costumes, and ranking the contestants in the evening professional competitions is always a popular social occasion for the My Dance Hub "family."
Ballroom dance competitions also offer an extraordinary shopping experience for both competitors and spectators, with vendors that include costume designers, shoe companies, and jewellery and practice wear providers.