Amateur Partner Dance Competitions
Amateur-Amateur Competitions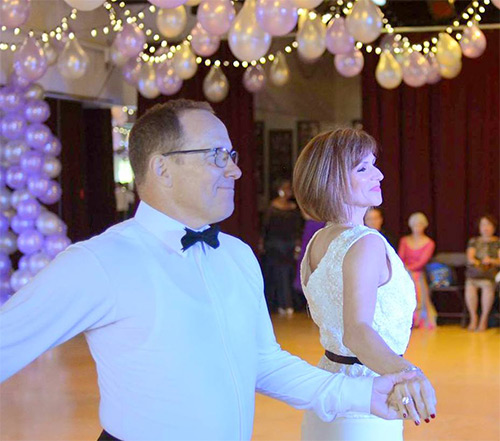 When you dance in an Amateur-Amateur competition, otherwise known as an Am-Am Competition, you dance with an amateur partner and the two of you are judged against other Am-Am couples in the same age level and with the same degree of skill.
Competitions are typically held at large hotels, and they usually take place over three to four consecutive days. Each day features a different style of dance—American Rhythm, American Smooth, International Latin, and International Standard.
As a novice dancer, it is perfectly normal if you find competitions to be a bit intimidating at first. However, it is important to remember that, even if you are out on the dance floor with a multitude of couples, you are not only dancing in our own age level, you are also competing with dancers with similar skills. Competitions begin with a Newcomer division and a beginner's level Bronze division before moving on to compete in the higher Silver and Gold divisions.
Am-Am competition couples at My Dance Hub often focus their lessons on preparation for a well-known and highly respected local amateur dance competition, which is held annually in the Chicago area in October and sponsored by The Chicago Chapter of USA Dance — the national DanceSport organization devoted to the promotion of amateur ballroom dancing. This competition draws amateur couples from across the United States, and it is an excellent opportunity for Am-Am dancers to learn the ins-and-outs of ballroom dance competitions. Over the years, many My Dance Hub Am-Am couples have earned awards at this competition, although amateur couples that desire to expand their repertoire and develop their skills also have the option of dancing as amateur couples among Pro-Am couples (single dancers partnered with professional dancers) at Pro-Am competitions.
Presenting Yourself at Ballroom Dance Competition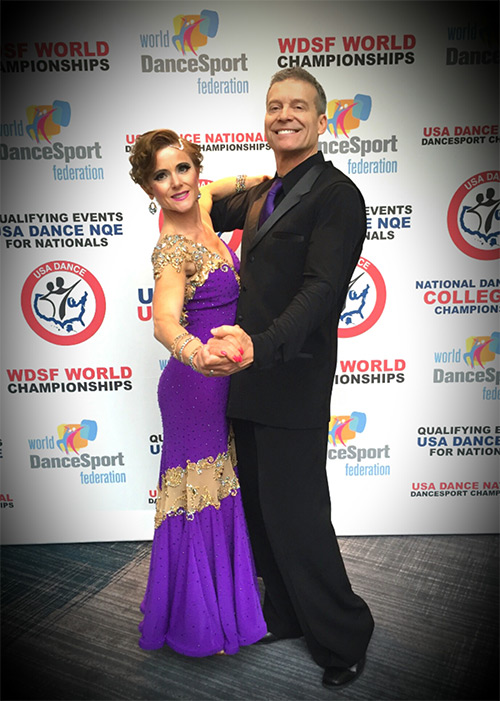 At ballroom dance competitions, it's not enough to execute the steps and techniques perfectly; you must also look like a ballroom dancer, and that means wearing a dazzling ballroom dance costume, and, for women, enhancing your costume with the glittering dance floor style of make-up, hairstyle, and jewelry beloved of amateur and professional ballroom dancers. Ballroom dancing is, after all, an art. Your presentation on the dance floor plays an important role in the image that you portray to the judges at live competitions where every detail counts.
And you don't have to figure out this initially puzzling process on your own. At My Dance Hub, we take seriously our responsibility to be your resource for competition rules, regulations, and protocol. We advise you on competition expectations and guide you in competition planning. We offer our own professional ballroom gowns for rent; we carry many necessary products (jewelry, dance shoes, hosiery) in our dance store; we provide make-up and hair styling services before competitions.
Competition Fitness
Ballroom dancing, particularly at competition level, is a sport. Competition dancing demands a degree of styling and sharpness, athleticism and endurance not required for social dancing. It is not uncommon for serious students to engage in other fitness activities, especially when getting ready for a competition. Such fitness activities as yoga, weight training, and cardio exercises improve flexibility, strength, balance, and endurance.
Competition Essentials
Good preparation is key to a successful competition. Once you have mastered the technical skills of dancing and have created "the look" prized by competitive ballroom dancers, you need to learn how to market this package on the dance floor. Never underestimate the importance of the performance aspect of ballroom dancing at competitions! Entering and exiting the dance floor with flair, acknowledging the audience with bows and curtsies, maintaining erect posture, smiling and making eye contact with the audience and judges, flowing with the music and your partner, and energetically and dynamically interpreting the characteristics of each style of dance are all examples of how to make yourself stand out on the dance floor.
Competition days usually begin early with hair and make-up appointments, breakfast and a quick warm up. Heat lists are printed in advance, letting you know literally minute by minute what dance you are dancing when. After a certain number of heats, the judges award placements for each heat you and your partner have danced. It is an easy way to keep track of your progress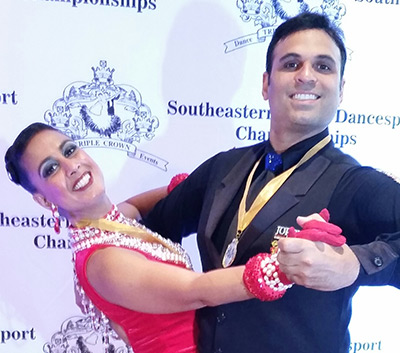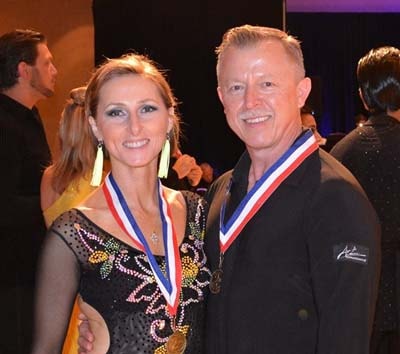 Every competition provides professional videography, and you can also order videos of your performances to review later with your instructor.
When you are not dancing, you can browse among the enticing shopping opportunities offered by ballroom dance costume designers, shoe companies, and vendors of jewelry and practice wear, or you can use the on-site computers to view and order the digital pictures that professional photographers take of all competing couples.
Benefits of Amateur Competition
Competing with your amateur partner is a great way to challenge yourself as a dancer. You progress faster when you establish and work toward concrete goals, and you become a better social dancer since you have honed your navigation skills on the dance floor and bolstered your confidence.
Competitions are never all about fierce competition; they are also entertainment—occasions to spend time shopping, dining, social dancing, and viewing professional dance exhibitions with the My Dance Hub family of dancers.
Check out our photo gallery for pictures from competitions.